John Berry, PhD
Chemistry
University of Wisconsin–Madison
Discover new chemistry of the transition elements through systematic investigations of challenging electronic structures.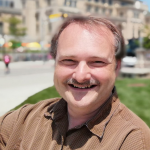 Chemistry
University of Wisconsin–Madison
John Berry is a professor in the Department of Chemistry. The Berry lab looks at compounds that contain at least two metal atoms bonded to each other; a motif not encountered in many chemical compounds. The importance of the metal-metal bond in these compounds is investigated by comparing the reactivity of these compounds to compounds that do not contain this metal-metal interaction. Berry's background is not only in chemistry, but also in musical composition. He uses this dual background in chemistry and music composition to communicate science broadly. For example, through the Wisconsin Institute for Science Literacy, Berry has recently organized a "Concert at Chemistry" as a collaboration between the Department of Chemistry and the School of Music. The theme of this concert was "clusters" in chemistry and the music featured the world premiere of Berry's Three Petrarchan Sonnets for soprano and piano. This piece features "cluster" harmonies that were compared with metal-metal bonded "cluster" compounds prepared in the Berry lab.