More Astrophysics Mural Activities
Let's take a trip to the stars!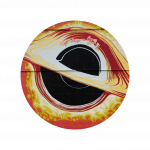 Black Hole
A Black Hole is a region in space where matter has become so dense that not even light can escape its gravity. A black hole is formed when a massive star collapses at the end of its life.
Can you spot the accretion disc? A black hole draws matter inward in a process known as accretion. The accretion disc is a thin, rotating disc of superheated matter spiraling toward the black hole.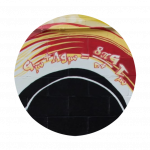 Einstein's Theory of General Relativity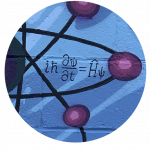 Schrödinger's Equation
Hidden within one of the atoms of our mural, the artists had a little fun, adding the Schrödinger Equation. Where Einstein's Theory of General Relativity is applied to large objects, Schrödinger Equation is applied to the small. This equation is the foundation of quantum mechanics and is applied to understand the behavior of systems at atomic and subatomic scales. Equations often used for subatomic physics (subatomic particles are smaller than atoms) are generally not relevant to massive, astronomical phenomena.
Learn more about general relativity from the BBC
Download the far out astrophysics coloring pages created by artist, Rebecca Jabs!
(scroll – there are 12 in all!)