Rupa Sridharan, PhD
Associate Professor
Cell and Regenerative Biology, University of Wisconsin–Madison
Epigenetic control of cell identity in pluripotency, development and disease.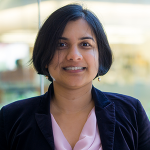 Associate Professor
Cell and Regenerative Biology, University of Wisconsin–Madison
My lab is focused on investigating the common and distinct mechanisms that underlie all these paradigms of cell fate change. For this purpose we use genome wide techniques to query the epigenome, transcriptome and proteome at the population and single cell level.