Travis Tangen, MS
WARF Education and Outreach Manager
University of Wisconsin–Madison
B.S. Education (UW–Madison)
M.S. Curriculum and Instruction (UW–Madison)
M.S. Structural Molecular Biology (University of London-Birkbeck)
More than 14 years experience as an educator.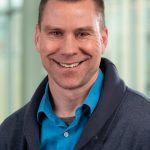 Travis Tangen, MS
WARF Education and Outreach Manager
University of Wisconsin–Madison
Travis Tangen creates, implements and manages educational scientific outreach activities in the three teaching labs and Town Center of the Discovery building; creates, prepares and coordinates Town Center programs; enhances outreach to the UW–Madison campus and the broader community by consulting with diverse campus and community constituencies; oversees the maintenance and setup of the teaching laboratories and equipment.